Kills Rust and Corrosion • Safe on Electronics • World's Greatest Lubricant, Penetrant and Anti-Seize
CorrosionX is the most advanced and effective corrosion prevention compound, lubricant and penetrant in the world! Although it may look like a typical oil-based anti corrosion spray, CorrosionX utilizes a revolutionary technology called Polar Bonding that does far more than merely slow down the corrosion process like those so-called 'corrosion inhibitors'. CorrosionX actually kills existing rust and corrosion (keeping it from spreading) and provides long-term protection against rust and corrosion on any metal surface.
Features of Corrosion X
• Kills and prevents corrosion
• Long-lasting Polar Bonding Technology
• U.S. military proven to be more than 2X more effective* than other airframe corrosion prevention and control products
• Displaces moisture
• Penetrates and lubricates
• Self-curing Fluid Thin Film Coating (FTFC) technology
• Effective on all metals
• Safe on electronics
• Contains no waxes or silicones
• As of 2017, the volatile organic content (usually abbreviated as VOC or VOCs) of CorrosionX Aviation has been reduced to ZERO. Compare that to other common airframe corrosion inhibitors, which can contain as much as 58% VOC*.
Applications
• Apply to prevent corrosion to airframe interiors, battery terminals, hinges, cables, wheel hubs, rotor heads and trim drum actuators. Ideal for exhaust and turbocharger components. It may also be applied to electrical and avionic components such as micro switches, cannon plugs, antenna bases, circuit breakers and buss bars.
CorrosionX is the only product available to the public that meets the US Navy's tough new corrosion prevention and control performance requirement ( MIL-PRF-8109F ).
CorrosionX also penetrates faster and further than anything you've ever used. Corroded or rusted nuts, bolts or fittings can usually be disassembled within a few minutes.
Watch this time lapse video closely! Due to it's unique Polar Bonding characteristic, CorrosionX is such an incredible penetrant that it will defy gravity and climb straight up this 3″ bolt!!
CorrosionX is not Harmful to the Environment
The volatile organic content (usually abbreviated as VOC or VOCs) of CorrosionX is only 4-7%. That's less than 1/10th what is in our competitors products (for example, WD-40 is 76% solvent). That means CorrosionX is many times more gentle on you, your equipment and the environment. In addition, CorrosionX is nontoxic, non-carcinogenic, and it's nonflammable when not in aerosol form (our environmentally-friendly propellant is flammable however).
CorrosionX HD is an exceptional corrosion control fluid for wire rope and crane cables – see the testing case study – Testing of CorrosionX HD on wire rope cables.
Lubrication of forklift chains has always been an issue in the material handling industry.
See photos of application of CorrosionX HD on the chains of a Hyster Forklift providing lubrication and corrosion control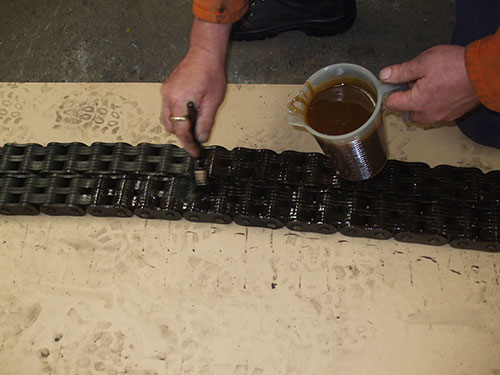 Application of CorrosionX HD to the Forklift Chains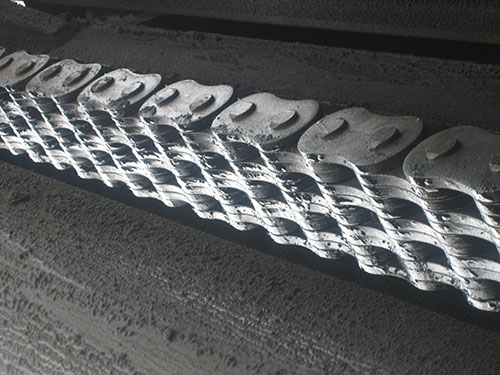 Close up of forklift chains in operation after application of  CorrosionX HD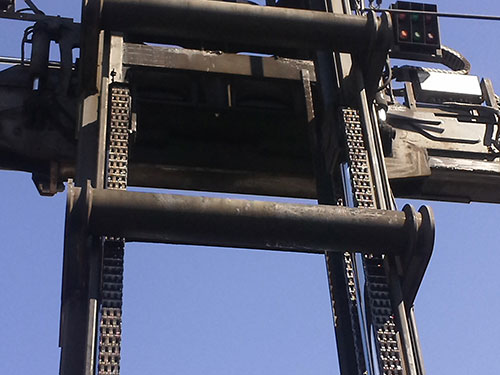 Picture of chains and lift assembly after applicaiton of CorrosionX HD
CATERILLAR Specifications for Anti Corrosives

Nox-Rust® offers the broadest range of corrosion protection coatings. In more than 100 countries around the world, Nox-Rust® coatings deliver proven performance for corrosion prevention as well as maintenance and operational lubrication. Nox-Rust® coatings are use by the major steel mills around the world for corrosion protection during storage and shipment, and have approvals from GM, Ford, Honda, Nissan, and others.